Brian Donnelly, or better known as KAWS, is an artist who started in New York. KAWS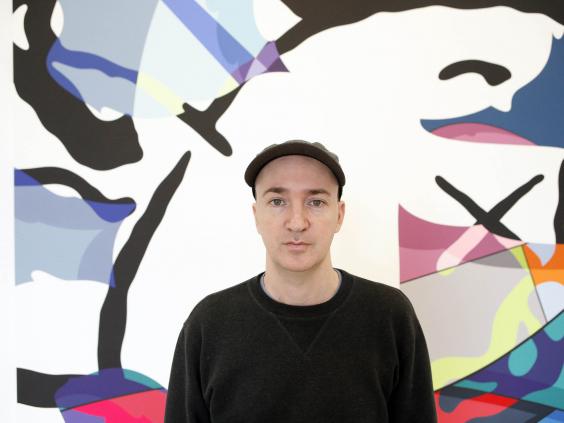 became known through his style designing clothing. He displays his art work through galleries including other paintings and sculptures. Born in 1974 in New Jersey, Brian studied a degree in the arts and worked for Disney after college. He contributed in well known animations such as 101 Dalmatians. Beginning as a street artist, KAWS later moved to New York and advertised his works on billboards and such. His career as an artist began to gain more popularity, allowing him to help redesign MTV's statue for their music awards in 2013.
The brand Air Jordan started on November 17, 1984 when Nike was still a newer company and was not the grand, name brand we know today. To gain popularity, Nike
decided to look to Michael Jordan. After some time of convincing, Michael would later agree to sign a 5 year contract. In 1987, things were not looking good for Nike. After their release of the Air Jordan I, it was a huge success, but the Air Jordan II was not doing so well. Losing their two designers, Nike looked to Tinker Hatfield who would make Nike brand again from designing the Air Jordan III with Michael. Many years later in 1997, due to the strong popularity of Air Jordan shoes, the Jordan Brand became more independent as sub brand of Nike, still growing and being known for their quality, athletic shoes.
With background information of artist KAWS and Jordan Brand, on March 31, 2017 these two collaborated to make a new sneaker. The Spring 2017 shoe would include the Air
Jordan 4 that would have a light grey colored upper made of suede. This sneaker is unique because of the glow in the dark sole with signature KAWS stitching inspired art. Instead of the Jumpman logo on the heel, this shoe has KAW's "XX" company logo on it. Not surprisingly, this shoe was very difficult to buy on the day of release. It's retail price was $350 but it sold out very quickly. Due to the high demand, this limited sneaker is being resold on websites such as Ebay for up to $2,000.
Where would a normal person find a shoe to buy like this? A high end, exclusive shoe like the KAWS X Air Jordan 4 is very difficult to find. Obviously, this show is, and most
likely always will be, available on Ebay, but at very high prices. On the other hand, you can still find this shoe in other websites or stores. Examples are Foot Patrol, END Clothing, Sole Fly, BSTN, or Patta. All of these websites are doing online raffles to give away a pair of these shoes. Although it might be a low probability of winning, it is still worth a shot for a shoe like this. Sivasdescalzo is doing a raffle on Instagram, and in-store raffles include SNS London, Titolo, and Trophy Room.