Recently, during the month of April, Forever 21 has gotten many fans angered by their design in clothing. The store, which is disliked for ruining their clothing with cliche
quotes, released new t-shirts and sweatshirts in their stores this month. Again, these items have their typical words on the front and back of their clothing. What is different about this that is getting fans and consumers angry? Forever 21 has stolen Kanye West's clothing by using the same font and mimicking his style. Kanye West's well known The Life of Pablo album was performed this past year, selling clothing merchandise also. This clothing line had a unique font which was called Planet Kosmos. Back in November 2016, Kanye West and Raf Simons both co-signed this font allowing them to use it on clothing together.
After the release of Kanye West's most recent album, he has been performing it live in 2016 from August to December on various dates. At these venues, he also sold many
different clothing which was specific and unique to the album itself. This included a variety of long sleeves, hoodies, sweatshirts and t-shirts. The authentic clothing itself sold on Kanye's website for very expensive at around 75 dollars for just a t-shirt. On the front or back of the shirts had phrases such as "I feel like Pablo" or "I love you like Kanye loves Kanye." It was well known for the different font that was not seen on any other clothing. Well, until now it is seen on cheap Forever 21 shirts that ripped off Kanye West.
This is not the first time that Forever 21 has stolen other people's ideas, or plagiarized, on their own clothing. This has been repeated many times in the past, and Forever 21 has been called out on social media. For example, in February Forever 21 stole Thrasher's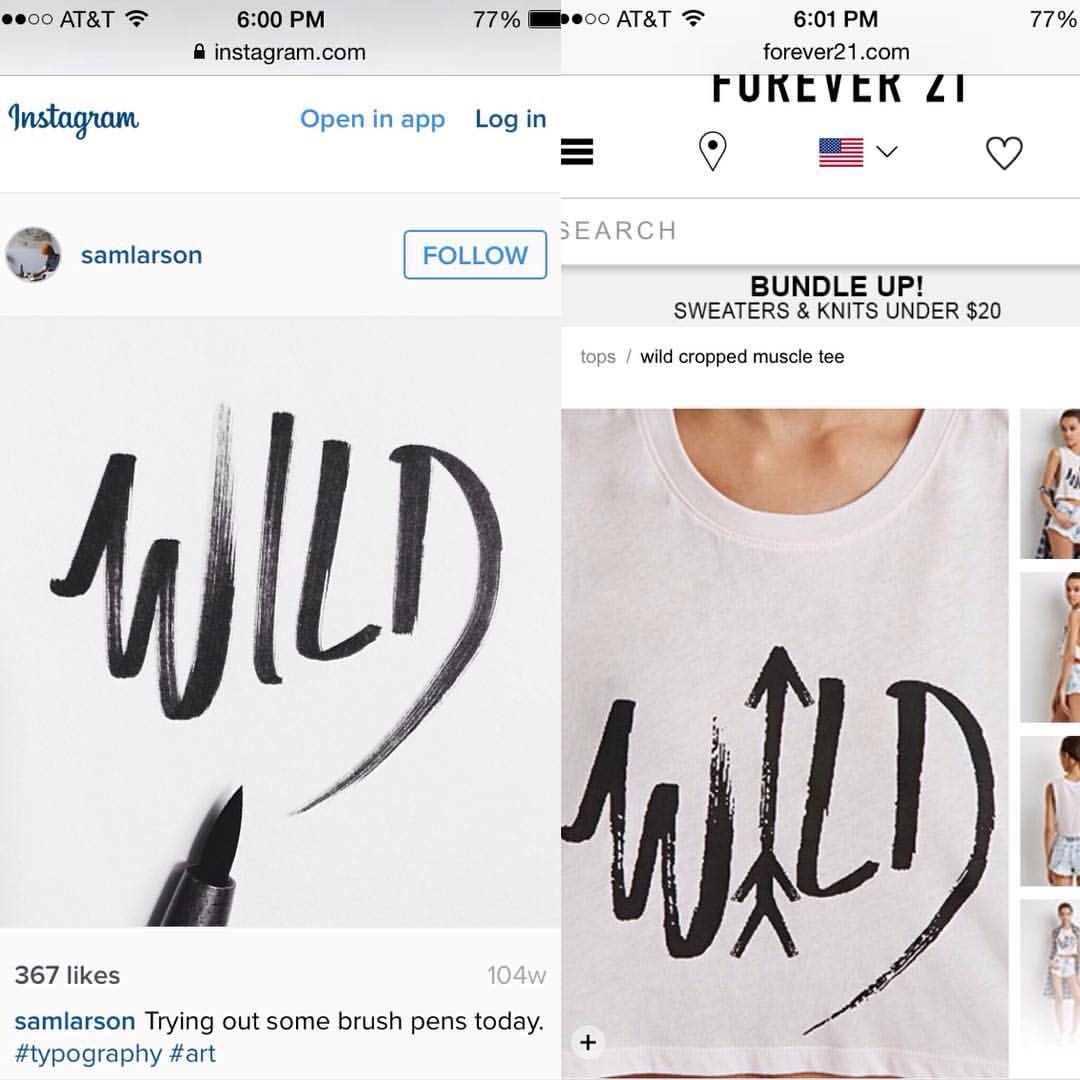 famous flaming logo. Thrasher is another clothing line directed towards skateboarders. Instead of the flame saying "Thrasher" like it originated, Forever 21 slapped this font on the back of a wind breaker saying "Happiness" instead. This angered the Thrasher company, as they called them out for this on Instagram. This did not recently start happening, as Forever 21 has been doing this for years. In September of 2015, Forever 21 stole drawings from an artist in Oregon, Sam Larson. Many of his small designs have been shared with fans on Instagram, but they started appearing on the clothing of Forever 21 without his approval. Over the years, this company has done this to multiple other artists, which is frustrating to most.